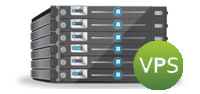 Most of the websites will begin on a shared server, but as they grow will require more than a shared account. For those who are looking for an improvement from shared hosting, but cannot afford the expensive investment of dedicated hosting, Hostinit would suggest our affordable VPS hosting plans as the right choice.
A Virtual Private Server (VPS) is a special type of hosting where a single server will be divided into a number of distinct units such that your account is completely separated from the other units on the server. The VPS server acts just like a dedicated server though there will be other VPS accounts on the same machine. Since each VPS server is a separate entity, it runs on its own operating system, will have its own disk space, memory and bandwidth and will have the option to be separately rebooted.
Our VPS hosting provides you the convenience of growing your website with an option that offers more reliability and security than shared hosting but at a lower cost than a dedicated server plan. We have a variety of VPS hosting packages which allow you to choose the right solution for your hosting requirements.
All our plans include 24/7 technical support and an assured 99.99% uptime guarantee. Our experienced engineers take care to monitor all our VPS servers around the clock so as to ensure that our customer website(s) remains live all the time. Our fully featured and managed VPS hosting solutions will offer you increased performance, security and power.